January 18, 2013
Dear Reader,
It's been three years since I last updated this page. I'm still here. This site is getting old, but if the item you are interested in is still posted, it must be in our warehouse somewhere. So please order with confidence and I'll dig it up for you.
Cosmic Therapy is your direct line to the books and products of Sirius Entertainment, publishers of POISON ELVES, AKIKO, OH MY GOTH, SCARY DOGMOTHER and more. POISON ELVES is now published by APE Entertainment. Check it out!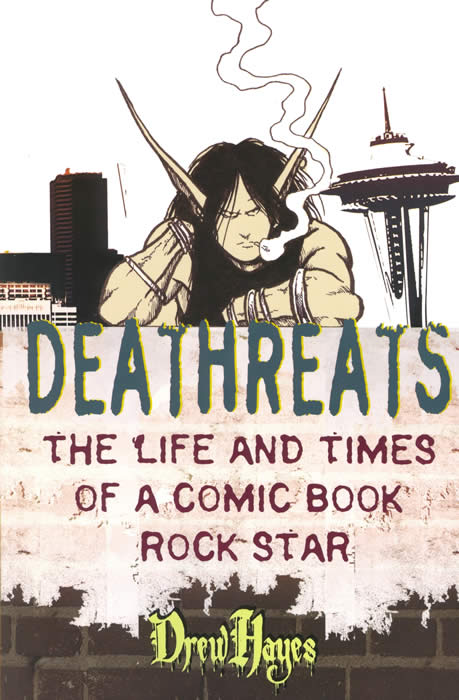 DEATHREATS is the award winning autobiography of POISON ELVES creator, Drew Hayes. There are only a limited number of First Print copies of this book available. As the awards committee says, "The deeply personal writing, stunning in its brutal honesty, serves as a fitting tribute to an under-recognized artist and all publishers who struggle to make their voices heard." This website is still here to help make Drew's voice be heard. I will take it down when DEATHREATS sells out.
If something is marked SOLD OUT, I recommend you set up a search alert message for our listing at CosmicTherapyInc on eBay to see if it becomes available. Some very rare items are listed exclusively on our AMAZON shop. Otherwise, send me an e-mail and I can give you the status. If you have any other questions, please contact me directly at the email below. Thanks for reading!
Robb Horan, Sales Director
Some Things That Our Customers Should Know
A Note to INTERNATIONAL, Non-USA Customers - International Shipping costs will not be added at checkout! Instead, we will invoice you the balance due on your actual postage amount AFTER we have packed and weighed the items. If you would prefer to know the cost at checkout, please order through our EBay Store or send an e-mail request for a shipping quote.
Our e-mail subscribers always get the first crack at new and limited items! If anyone would like to be put on the list for future exclusive offers, please send a note now to: info@cosmictherapy.com Remember to let us know what titles you are most interested in.
If you are not yet a satisfied customer, please bring it to my attention by writing to me:

To see what rare and special items we're offering, check out these links:

Or you can look up our store on eBay, it's the only one that's called Cosmic Therapy

For auctions you should search under our Seller ID which is CosmicTherapyInc