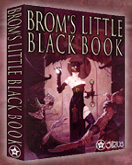 As one of the top fantasy artists of his generation, Brom is best known for contributing his distinctive look to all the major TSR game and book lines, as well as completely designing the look and feel for the best-selling Dark Sun world.
In 1993, he returned to the freelance market and has been working obsessively within every facet of the SF/Fantasy/Horror field, specializing in the darker side of the genre. Through his artwork for book covers, role-playing games, collectible cards, comics (for Sirius, Dark Horse, Chaos!, and DC Comics), movie work (Tim Burton's Sleepy Hollow, for instance), and computer games, Brom has brought his distinctive, dramatic, and often disturbing visions to life.
Brom currently lives with his family in the fine state of Washington. There he is ever painting, writing, and trying to reach a happy sing-along with the many demons dancing about in his head.